15th December 2011 – Enahoro  – PRESS RELEASE
On the one year anniversary of our laying our beloved husband and father to rest, we would like to thank you all for the love and respect in which you held him.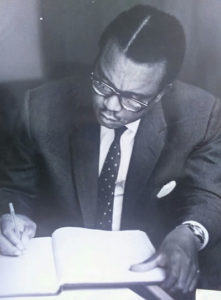 The incredible numbers seen at the various events celebrating his life were eloquent testimony to the regard in which he was held.
The family wishes to take this opportunity to thank you all for your participation and kind gifts towards giving him a fitting burial.
Whilst he was still alive, he was dismayed by the actions of some Nigeria's political leadership. He was also quick to praise those whose conduct and actions made them shining exceptions. He was given hope for a better Nigerian future by the actions and words of those able to see a vision of Nigeria greater than themselves. He fully supported all those; across party lines; who worked to improve the infrastructure of the State and Nation, and bring relief and hope the lives of the millions of Nigerians regardless of ethnic, political or religious affiliation.
In his long and distinguished career, he spent himself fighting for Nigerian liberty and democracy. The right to education, work, economic liberty and political equality was his life's goal. His regret was that he never saw these things in his lifetime. His great hope was that his children and grandchildren would see the Nigeria for which he suffered so much at the hands of the British, and then certain military administrations.
In his lifetime, he suffered attempts on his life, exile and seizure of personal property. He was probed on numerous occasions and was always found to have never appropriated government funds for his own use. He had more than ample opportunity to do so in his various government positions, however it was inconceivable to him that he should rob the nation and peoples for which he risked and gave so much.
We are aware that when he died, we not only lost a husband and a father, but the nation lost its foremost son. It has been said that the conscience of the nation died when Chief Enahoro left us.
Thankfully, this is not true. There are many who caught his vision, and as such they became his political offspring. As any great leader does, he invested himself in others to ensure that his vision, born long ago when he was only 15 years old and Nigeria was still a British colony, would be left in trustworthy hands. These men and women who carry his vision are identified by what they do for the nation.
The hardships being experienced by the overwhelming majority of Nigerians; the lack of healthcare, education, economic possibilities and the assurance that each vote counts and the difficulty in putting food on our tables; is something that he spent his life fighting against. Even when physical strength left him as he approached 90 years of age, his mind was ever engaged in what he called, "the struggle for the liberty of every Nigerian."
It was his sincere desire that each and every single one of us would be able to look at our children and know that they could be assured of a future better than our present. "In Nigeria," he said," there must always be progress."
As we celebrate his life, we would like to remind you of the hope he always held, that one day corruption would no longer ruin this nation, and that the enormous mineral, economic and human wealth we have would be put to the service and benefit of all Nigerians. The other alternative does not bear thinking about.
We would like to thank the people of Edo State, and all Nigerians for the wonderful way in which you honoured him at the time of his burial. We would also like to thank you for the esteem in which you continue to hold his name, and join with you in praying for the prosperity of Nigeria and all its peoples.
By Mr Gabriel and Mrs Helen Enahoro
For and on behalf of the family of Chief Anthony Enahoro
15/11/2011